Modern Entrepreneurship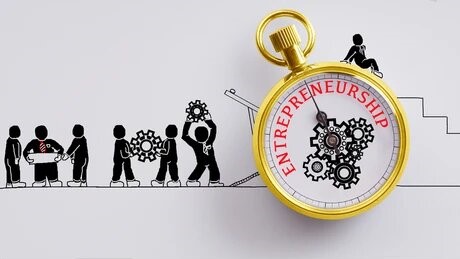 Course description
If you think that you will work for the same company for your entire career, wake up! That might have been true in your parents' or grandparents' day, but it is just not true today. The world has changed, and you have to change with it. Companies have shown that they generally have limited loyalty to their employees; employees have learned that they can count on their employer to keep laying people off until the company becomes profitable or for any number of other reasons. It may just be a matter of time until you are one of those caught in the " right sizing". So you should be doing what any solid professional would be doing in this position constantly looking for your next opportunity.
Much of the uncertainty that comes with being an employee goes away when you are the business owner. the benefits associated with running your own successful business are great, and the rate at which new businesses are being created indicates that many have already figure that out. Now it is your turn. Why not make your next job your own business?
Objective of this course
This course lays a framework that you will use for your new business. you will learn how to find the right business for you and discover ways to determine if your business is a good one. this course is set up to walk you through the typical decision process that we have seen our student experience. it explains what is involved in writing a start up business plan and help you to understand the realities associated with owning a franchised business or buying a business that is already in operation. you will also learn about the different types of legal business forms such as partnerships and corporations.
Teaching Methods
This course will be taught online via LYCEEX , which is the SCI Education USA elearning application.
You need to register to this course to get the full syllabus designed of this course.
Studing this course
The course lessons will be conducted online( 3-4 hours live classes a week) in English or French language by an expert in the field. it will take around 4 weeks to complete all of the lessons and earn your certificate. You will Study through the course materials all online at your own pace on SCI platform. You can use a computer or mobile device, and study the course materials whenever you have time available. You don't need any specialist equipment, just a computer/mobile device with an internet connection.
Course Exam
To make sure that you truly understand the principles and techniques in the course, you'll complete a full examination at the end of the course online. The final exam type question can incluse: MCQ questions, Short answer questions, Essay questions. You are required to get 80% as final grade to pass the course exam.
Retake the Course Exam
You will be able to retake the course exam online if you did not score the required grade to pass the exam at your own costs.
Get your Course Digital Certificate
You'll receive your Digital certificate as soon as you complete the course exam. The certificate displays your name, your certificate's unique ID number, date of completion, and the details of the cource you completed.
Order your Hard Copy Certificate
If you also wish to purchase a hard copy of your certificate it can be purchased at the end of your course. Many teaching positions require only your digital certificate copy, so you can decide whether you'd like a hard copy when you're ready to apply for teaching work.
Course Requirements
The course is open to anybody with a Bachelor Degree or equivalent. Basic level in Engish as second language with at least two(2) years professionnal experience. therefore additional qualifications can help with securing work after the course, there's no specific field educational requirement to earn your certificate through the course.
Payement terms
The course fee is paid with a single payment starting the course. This fee covers your full TESOL/TEFL course, access to support, assessments, and your digital certificate.
Enroll to the course
All nationalities are welcome to enroll.